When I visited my home city,
Shenyang
last month, I encountered a building with a dubious distinction of being named as one of the ten ugliest building in the world,
Fangyuang Building
(Square and Round Building). Its bold outlines of square and round were the literal reproduction of ancient Chinese coins - round shape with square holes in the middle for holding stack of newly minted coins with square sticks in order to file away the rough edges. The literal mind made the building small despite its immense size.
The connection between the bank and money here was so literal that it went beyond banality. The contrast between the blue tinted windows and the golden trimming was unpleasant too. It truly deserve the ridicules it had garnered. More over, it catered to the contemporary Chinese's insatiable taste for material wealth. Crass.
However, I could easily name quite a few other buildings more deserving of such bad reputation, none other than the
Son of Heaven Hotel
in Hebei Province near Beijing, in the unbelievable shape of three folklore gods - Fu (Fortune) (middle), Shou (Longevity) (left) and Lu (Official Career) (right) - all in gaudy clothes.
If you think that these still images were doctored jokes, you ought to watch the video to be convinced. Some journalist in China reported his traumatic encounter of these three giants at night and if you had the misfortune of staying in one of those rooms behind the colorful garbs or inside the two-holed peach, you would be traumatized too.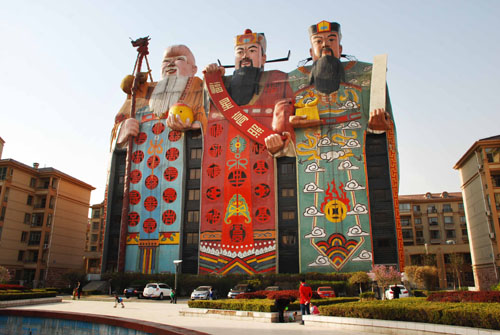 Label:
Shenyang