Santa Maria Novella
, the first great basilica in Florence, Italy, and is the city's principal Dominican church, was the last stop of my art pilgrimage in my only trip to Italy in 2000. After all those amazing museums and churches, including two side trips to Sienna and Venice, this amazing church and its adjoining cloister still had much to impress me, particularly the great frescoes by Gothic and early Renaissance masters.
The most striking one was "Scene from the life of Noa (Noah)" by Paolo Uccello in Green Cloister: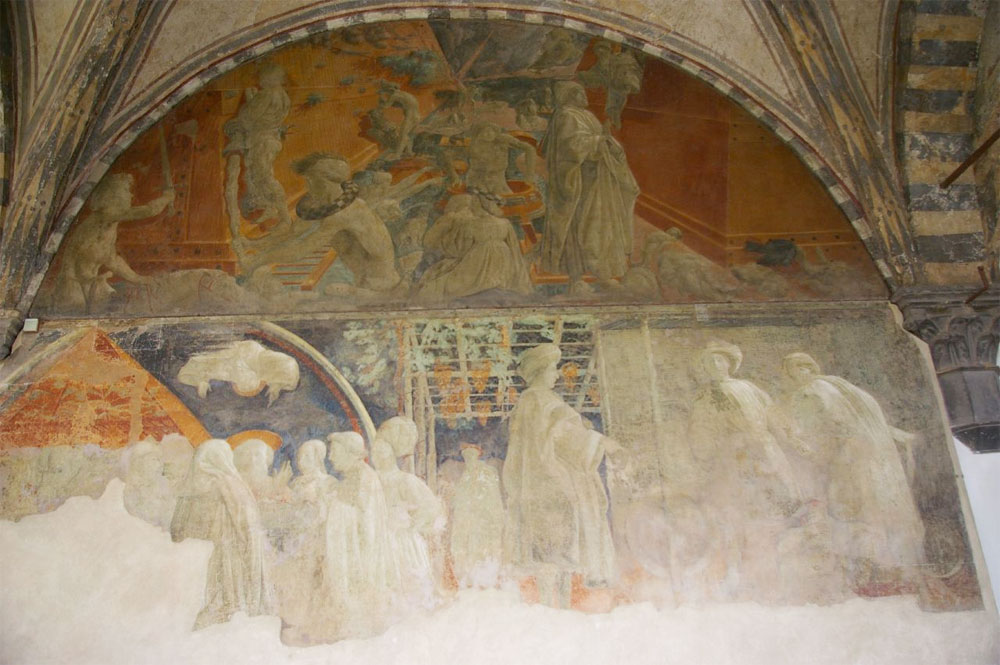 Green Cloister
Paolo Uccello - Scene from the life of Noa
Here, many figures, in forms like ivory relief, congregated in the less well-preserved lower panel, seemingly preparing for the deluge, orderly, almost in a trance. In the upper
lunette
, people are much more animated and the strangely converged perspective emphasized it even further. There was a great sense of the collapsing of time and space, seemed that the entire human history was condensed into that moment and one was moved to by the agonizing event.
And then what a balm to the troubled soul it was to view the tranquil scene of "The Visitation" by Domenico Ghirlandaio in the Tornabuoni Chapel (below).
Tornabuoni Chapel
Domenico Ghirlandaio
The Visitation
This Visitation, between the pregnant Mary and Elizabeth pregnant with John the Baptist was a poignant scene, with an inevitable sadness undertone. Here, Ghirlandaio gave us a tableau which had all those elements but also strangely comforting and idyllic. Elizabeth and Mary, held each other's hands, in tender emotion, as if they knew the fates of their respective son and that was the point of this picture. The were tended by groups of young women, not unlike three graces at the two ends of the tableau - a device used to bring in more beautiful figures, and to connect the new Christian religion and the classical period, and that was also emphasized by the classical arch at the right background. All the ladies, except for the more non-specifically clothed Mary and Elizabeth, were clearly Renaissance Italians. The rather solemn and stately scene at the foreground was enlivened by the picturesque landscape and town's life at the background, with the charming flying birds, marvelous Mediterranean trees, and unconcerned self-absorbed folks, carrying on their own life, oblivious of the significance of the moment.
The painting was very beautiful to behold, with ravishing yet harmonious colors and figure drawings being its primary virtues.
My Favorite Museum Collection Series
>> My Favorite Museum Collection Series 27: My Favorite Paintings in Palazzo Pubblico, Sienna
<< My Favorite Museum Collection Series 25: My Favorite Artworks at Cappelle Medicee, San Lorenzo, Firenze