The Fitzwilliam Museum
in Cambridge was the last major museum I visited in the United Kingdom in 2006. It was founded in 1816 and is the art and antiquities museum of the
University of Cambridge
. Naturally, an institution as ancient as this would have amazing collections and my expectation was fully met.
Yet, amongst its endless arrays of antiquities from all corners of the world, and paintings by many great masters, I was most affected by a very small monochromatic painting, titled
Agnes
(below), painted by an artist named I didn't know - Catherine Blake.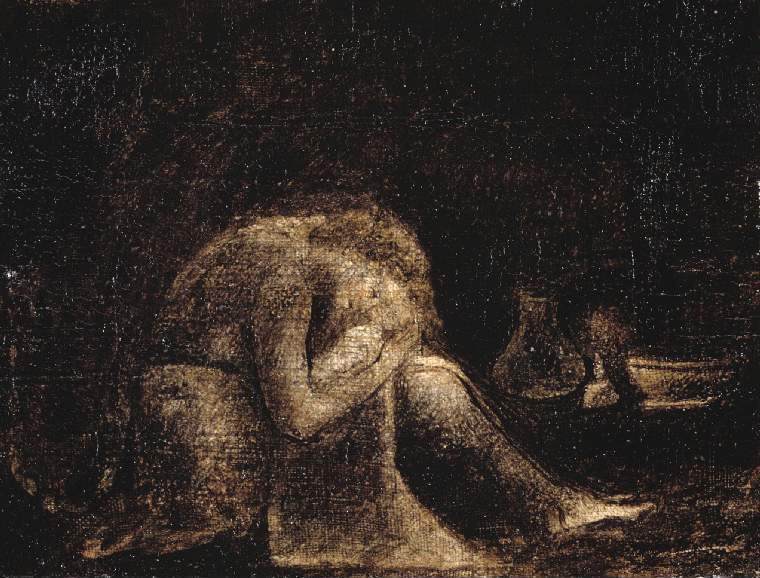 Agnes, tempera on canvas, circa 1800, height: 14 cm, width: 15.3 cm
Catherine Blake, British, 1762-1831
Online search yielded that Catherine Blake was indeed related to the more famous Blake, William.
Wikipedia
informed us that "Catherine Blake (née Catherine Boucher) (1762–1831) was the wife of the poet, painter and engraver
William Blake
(1757–1827), and a vital presence and assistant throughout his life as an artist.
What moved me most by that painting was that it was incredibly sincere, touching, a bit scary and immensely beautiful, despite its obvious gloom. It was done with tempera but looked more like an etching or a drawing; I have no argument with this fact, because my paintings are often monochromatic and I truly appreciate its dark psyche and the draftsmanship undisguised by display of colors.
To cure the melancholy this painting plunged me into, I turned to the colorist Venetian master Titian for a cure. Well, it was a painting about a tragic affair, but it was so stylized and so beautiful to behold, that one ought to be forgiven to feel joyous in front of this enchanting painting, a painting with graceful figures, lovely nude, ravishing colors and wonderful composition.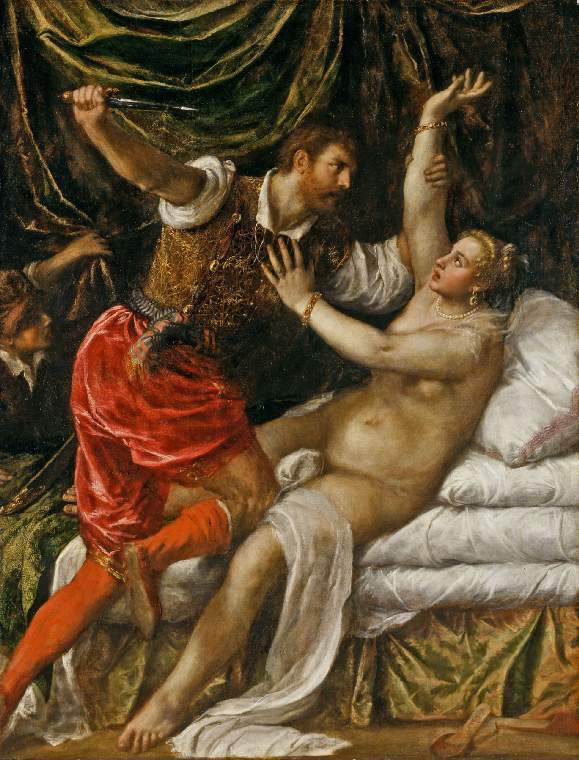 Tarquin and Lucretia, oil on canvas, circa 1571, height: (canvas): 188.9 cm, width: (canvas): 145.1 cm
Tiziano Vecellio (Titian) (

1488/1490-1576

)
The horror Lucretia suffered, actually, got heightened once viewers looked pass the surface beauty and dived deep into the situation the master depicted, and that made this painting, beyond its beauty, profound.
My Favorite Museum Collection Series
>> My Favorite Museum Collection Series 50: My Favorite Paintings at Rijksmuseum, Amsterdam
<< My Favorite Museum Collection Series 48: My Favorite Paintings at Tate Britain, London