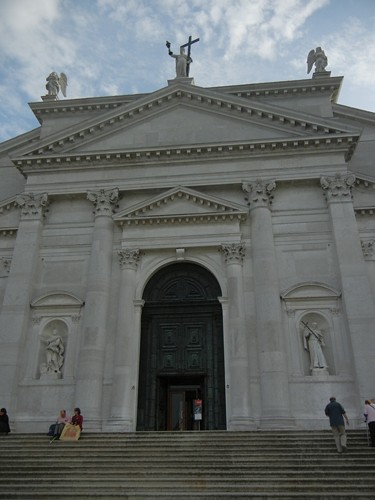 Il Chiesa del Santissimo Redentore (
Church of the Most Holy Redeemer) is located on a small island facing Venice across a lagoon, and a short trip by boat brought me to see some of its eclectic artworks.
My favorite painting in the church was
Baptism of Christ
by Veronese. This painting did not present a panoramic scene of the event; rather, it brought viewers to the close proximity of the main characters in the drama -- Jesus and John the Baptist, presented as virile young men, vigorous and poised, dynamic even in a arrested still moment. Froze in the middle of an action, their seeming pause gave the painting an ethereal atmosphere and a sense of timelessness. The strong modulation of their bodies and the bold outlines gave added to their confidence. They were visited by holy ghost, hovering over Baptist's blessing hand; and observed by two female biblical figures to their left; two donors, dictated tradition occupied the lower right, who in turn, were balanced by cherubim on the upper right corner of the painting.
Baptism of Christ, Paolo Caliari known as il Veronese
My second favorite painting was
Transport of
Christ to the
Sepulchre, by
Jacopo
Negretti
called Palma
il Giovane.
This was a beautiful painting, with typical coloration of Italy idyllic paintings, almost too much so for such a sad subject. The curiously tranquil scene was accented by two grieve stricken female figures on the upper left and lower right of the painting. The composition was dynamic yet understated, despite of those two female figures, whose postures were a bit overtly dramatic.
The painting was installed between two columns and underneath a weighty pediment, which echoed the semi-circular top part of the painting. The small "dome" and the understated trimming at the inner edge of the painting let the entire ensemble an more decorative air. However, the pureness and openness of the setting were slightly disturbed by a massive golden crown above a crucifix nearby. Impressive surely but a bit too oppressively rich and earthly to be next to this ethereal painting.
Transport of
Christ to the
Sepulchre, by
Jacopo
Negretti
called Palma
il Giovane
My Favorite Museum Collection Series
>> My Favorite Museum Collection Series 104:
My Favoritate Paintings in Scuola Grande di San Rocco, Venice
<< My Favorite Museum Collection Series 102:
My Favorite Paintings in Church of San Giorgio Maggiore, Venezia
List of My Favorite Artworks in the Museums I've Visited
Other Related posts on
Art · 文化 · Kunst:
-
My Favorite Paintings at Église Saint-Sulpice, Paris
-
My Favorite Sculptures at Stephansdom (St. Stephen's Cathedral), Vienna
-
My Favorite Sculptures in Basilique Saint-Denis (Paris)
-
Basilica di San Petronio and San Domenico in Bologna
-
My Favorite Art Works at Santa Maria Novella, Firenze
-
Magical Piazza San Marco in Venice